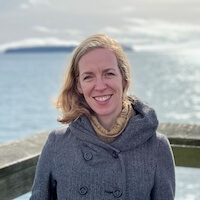 Liz Johnston
---
Liz Johnston lives and writes in Toronto. Her stories have appeared in The Fiddlehead, The Humber Literary Review, Grain, The Antigonish Review, QWERTY, Confingo, and The Cardiff Review, among other publications. She is an editor of Brick magazine.
Publications
"Invisible Woman," The Fiddlehead. no. 286, Winter 2021.
"Scoring," Humber Literary Review. vol. 8.2, Winter 2021.
"Follower," Grain. vol. 47.3, Spring 2020.
"The Old Bray of my Heart," Grain. vol. 44.4, Summer 2017.
"The Apartment," The Cardiff Review. no. 7, Spring 2017.
"Public Transit," QWERTY. no. 35, Fall 2016.
"To Remember Him By," Confingo. no. 5, Spring 2016.
"Maggie and Mardi," The Impressment Gang. vol. 2.3, Spring 2016.
"A Long Way from Yonge and Eg," The Nashwaak Review. vol. 32/33, Summer/Fall 2014.
"The Funeral," The Antigonish Review. vol. 45, no. 177, Spring 2014.
---